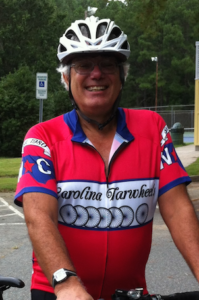 Check out the new and improved Tarwheels club jersey.  If it looks this good on this unknown model, just imagine how you will ROCK the new Tarwheels  jersey.  Rachael Fiorentino of Danger Muffin Designworks tweaked the previous club jersey making it considerably brighter and more visible.  We also went with Danger Muffin for the production, which means that 50% of the profits go to The ReCYCLEry NC in Carrboro, a cause which we have enthusiastically supported for years.   Only $50.   What's not to love?  A great jersey, a great cause, and a great price.  Supplies are limited.  Want one? You can get them at the Bicycle Chain location in Durham (cash or check only), at the club meetings or you can contact us.   
---
We also have a limited number in various sizes of the very popular blue jerseys on sale for only $30.  Now that is a great deal.  If we had another in my size, I would snap that up in a flash.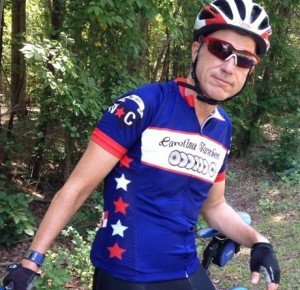 Here it is, being modeled by the former Tarwheels club president.  Only $30! If you have ever bought a custom jersey, you know that is a great deal.  Want one?  We will have the remaining inventory at the club meetings or you can contact us.